Celebrating 20 Years of Music
A journey through two decades of Tosa Tonight
In 2000, Tosa Tonight began with a vision for building a sound community.
The story of Tosa Tonight could have only happened in Wauwatosa and only over these last 20 years, guided by people committed to their community and a few serendipitous events. Over the years, we have grown to feature diverse local, national and international talent.
This year, we invite you to take a little trip down memory lane; scroll through some photos, season highlights, and all of our past line-ups.
TOSA TONIGHT ORIGINS
In the late 1990s, a new summer tradition began with neighborhood garden parties harkening back to an old-fashioned era, with homemade lemonade and sundaes. But Brian Leahy – who helped organize the early gatherings with friends, family, and neighbors – envisioned something bigger for the Wauwatosa community.
The seedlings of what would eventually become Tosa Tonight as you know it today sprouted with gusto as more neighbors came out and the concerts moved to rotate through Tosa's parks – Hoyt, Wisconsin Avenue, Hart, and Jacobus – and organizers built and transported handmade stages for each concert with donated materials.
1998
Location:
The Garden of the Wauwatosa Historical Society
Highlights:
Over two decades ago, committee members Brian & Nancy Leahy, Barry Fuss, Arline Hayes, and Janel Ruzicka put on a summer concert featuring arRHYTHMia, Tosa Jazz, and Leahys Luck. The concert was a huge success in the neighborhood – too huge. The crowd far exceeded expectations, both from a spacial area standpoint and, well, a bathroom standpoint. While the Tosa neighborhood was clearly stoked about outdoor live music, the committee would have to reconvene and reorganize to make the event more manageable next year.
1999
Locations:
Hoyt Park, Wisconsin Avenue Park, Hart Park, & Jacobus Park
Highlights:
Originally dubbed the "Wauwatosa Neighborhood Summer Concert Series," this Summer of 1999 gathering provided our community the opportunity to raise money for the Millennium 2000 Celebration in Hart Park scheduled for December 31, 1999, from 12:30-4:00pm. Maricolette Walsh was the Mayor at the time, and there was a long list of volunteers who helped organize the Millenium Events. Concerts throughout the summer featured Leahys Luck, the Nick Contorno Swing Band, the Michael Drake Band, and Broadway Hits in the Park.
THE EARLY YEARS | 2000-2007
Locations:
Hoyt Park, Wisconsin Avenue Park, Hart Park, & Jacobus Park
2000
Highlights:
Tosa Tonight Summer Concert Series became official in 2000. The City donated $1000 of funds that were leftover from the Millennium Celebration to use as seed money. In the spring of 2000, the two Wauwatosa Rotary clubs began the development of a plan for a Pavillion, Stage, and Concession area, driven by MMSD, who had declared the area a flood plain. In July, we received approval for a Planning Committee. These two projects joined and Paul Roller of Miller Brands agreed to chair the fundraising and development process. The Pavillion plan took nearly 10 years, and Miller products continue to be served at events to this day.
Performances:
NICK CONTORNO ORCHESTRA
AN EVENING WITH MARK TWAIN
MICHAEL DRAKE
LEAHY'S LUCK
2001
Highlights:
The Hart Park Master Plan was developed. We had 25 classic cars on hand for the night Rocket 88 performed.
Performances:
NICK CONTORNO ORCHESTRA
ROCKET 88
MICHAEL DRAKE
GAELIC STORM
2002
Highlights:
Before social media, Tosa Tonight made media social and sent out concert announcement flyers to post on your refrigerator. This was also the first year Froedtert & the Medical College of Wisconsin became a sponsor. To this day, they remain the Signature Sponsor of Tosa Tonight.
Performances:
THE BRITINS
THE SWING-O-MATICS
MICHAEL DRAKE
LEAHY'S LUCK

2003
Performances:
LOVEMONKEYS
THE WESTERN BOX TURTLES
MICHAEL DRAKE
GAELIC STORM
with openers:
STEPHANIE DOSEN
SHEAR DELIGHT

2004
Performances:
JOHNNY SPARKLE
WILLY PORTER
GEOFF LANDON AND THE WOLFPACK
SEVEN NATIONS

with openers:
THE DOO-WOP DADDIES
DESPERATE MEASURES
STAS VENGLEVSKI
2005
Performances:
OLD MIL
COLD SWEAT & THE BREW CITY HORNS
GEOFF LANDON AND THE WOLFPACK
GAELIC STORM

with openers:
THE KENNY TODD BLUES BAND
CRAZY MAN'S BASEMENT

2006
Performances:
JAZZ EXPRESS
THE BOOZE BROTHERS
GEOFF LANDON AND THE WOLFPACK
GAELIC STORM
with openers:
PUNTO DE VISTA LATIN ORCHESTRA
5 CARD STUDS
LEAHY'S LUCK

2007
Highlights:
Tosa Tonight is no stranger to rainouts, but this year we took to the Muellner building. Also, 2007 began preparations to apply for 501c3 status, a process that takes months to complete. Final plans presented to the Committee for approval.
Performances:
SWING NOUVEAU
THE DOO-WOP DADDIES
GEOFF LANDON AND THE WOLFPACK
GAELIC STORM

with openers:
BILL CAMPLIN & JASON KLAGSTAD
CATHOUSE DRIFTERS
LEAHY'S LUCK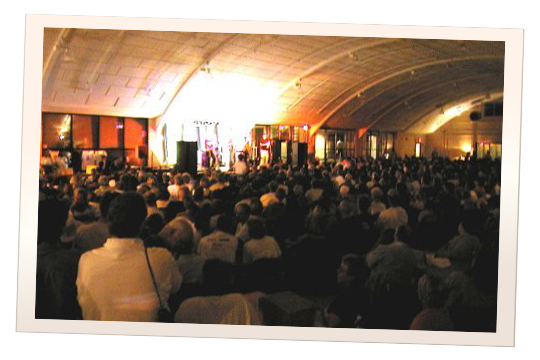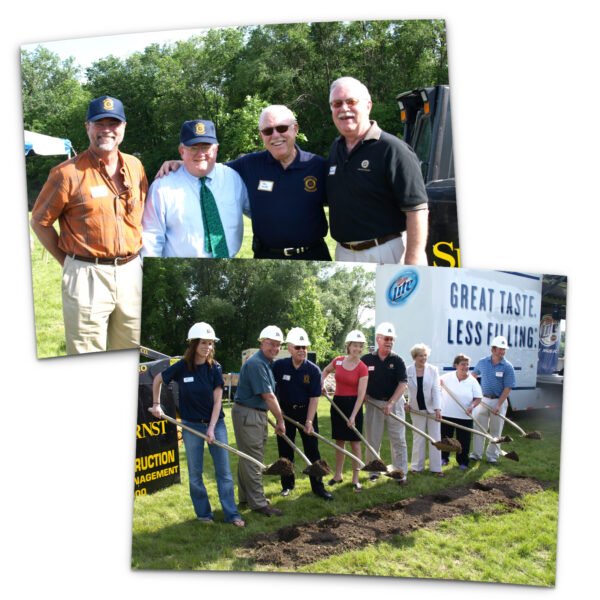 ESTABLISHING ROOTS | 2008 - 2013
Tosa Tonight was incorporated and became a 501c3 on June 9, 2008. Rick Bauer was voted in as Executive Director. The ground-breaking ceremony was held on June 25th, with guest speakers: Paul Roller & Jim Engelhardt, Rotary Club, Erin McCarthy, WaterStone Bank, Chris Leffler, John Balzer, Froedtert and the Medical College of Wisconsin, Maricollette Walsh, Former Mayor of Wauwatosa, Theresa Estness Former Mayor of Wauwatosa, and Jill Didier, Mayor of Wauwatosa.
Tosa Tonight's first concert of 2008 was at Hart Park immediately following the groundbreaking on our portable stage. And at the first concert of 2009, Tosa Tonight committee members inaugurated the Rotary Performance Pavilion at Hart Park with a ribbon-cutting ceremony. The Rotary officially "gifted" the stage to Wauwatosa. Conversations with the city about the concession area began in 2009, but the construction wouldn't be complete for another decade.
In 2010, we launched the Tosa Tonight Facebook page and added our fifth concert to the series. In 2011, we added our sixth concert and began the development of the Stage and the Concession stand, plus the flag pole was donated & installed.
2008
Performances:
SWING NOUVEAU
DE LA BUENA
GAELIC STORM
5 CARD STUDS

with openers:
GRACE WEBER
RYAN MCINTYRE
PETER MULVEY
2009
Performances:
SWING NOUVEAU
STEALIN' STRINGS
5 CARD STUDS
GAELIC STORM
with openers:
THE EMPTY SUITS
MARC BALLINI
THE SCREAMING ORPHANS

2010
Performances:
WOOLDRIDGE BROTHERS
COPPER BOX
JON STONE
RED HOT CHILLI PIPERS
5 CARD STUDS

with openers:
MIKE BUSTIN
BLUEGRASS ALLSTARS
THE SCREAMING ORPHANS
MAJESTIC MUDD

2011
Performances:
SEMI-TWANG
CONSERVATORY JAZZ FEATURING BRIAN LYNCH
MAMA DIG DOWNS
484TH ARMY BAND
SEAMUS KENNEDY
PAUL CEBAR TOMORROW SOUND

with openers:
MIKE BENIGN COMPULSION
PETER D'AMORE
KINTRA

2012
Performances:
4 GUYS WITH DINNER JACKETS
5 CARD STUDS
I'M NOT A PILOT
SLIDE
CALLI DOLLINGER AND THE DUSTERS

with openers:
RUSSO BROTHERS
THE DIFFERENTIALS
SAMMY LLANAS
ENTER THE HAGGIS
REBECCA LOEBE

2013
Performances:
STREETLIFE WITH WARREN WIEGRATZ
5 CARD STUDS
TRAPPER SCHOEPP & THE SHADES
CONCORD CHAMBER ORCHESTRA
SPRAG SESSION
RANDY MCALLISTER

with openers:
STREETLIFE WITH WARREN WIEGRATZ
5 CARD STUDS
TRAPPER SCHOEPP & THE SHADES
CONCORD CHAMBER ORCHESTRA
SPRAG SESSION
RANDY MCALLISTER

SOUND COMMUNITY | 2014 - 2019
Tosa Tonight added two more concert nights for a total of eight shows from June through August. At the end of 2016, it was time for a big change. The Board of Directors approved the refresh of the entire Tosa Tonight brand, plus the design and development of a new mobile-friendly website that could also automate a lot of the board members' and admins' responsibility.
In early 2017, the new tosatonight.com and brand launched to kick off the season. Website improvement efforts included schedule pages dedicated to each concert, semi-automated Pavilion stage rental for events all summer long, plus a way for sponsors to apply to support Tosa Tonight at various levels. Brand marketing efforts included all new posters, handouts, print and digital advertising, and social media graphics.
2014
Performances:
5 CARD STUDS
JASON D. WILLIAMS
HUGH BOB & THE HUSTLE
CONCORD CHAMBER ORCHESTRA
SCYTHIAN
NAIMA ADEDAPO

with openers:
JACKSON PARK JAZZ ORCHESTRA
RUSSO BROTHERS
DANIEL AND THE LION
EASY DAYS BARBERSHOP QUARTET
TALLYMOORE
EVAN CHRISTIAN & THE STINKIES

2015
Performances:
GRASS, FOOD, & LODGING
R&B CADETS
THE BRITINS
SATURDAY J.U.G. BAND
BRETT NEWSKI BAND
DALLAHAN
POI DOG PONDERING

with openers:
ABOVE THE TOWN
MACYN TAYLOR
THE DIFFERENTIALS
HAYWARD WILLIAMS
SOCKS IN THE FRYING PAN
TIM MAHONEY

2016
Performances:
MASTERS OF ACCORDION
GREG KOCH AND GUESTS
5 CARD STUDS
WILLY PORTER BAND
MILES NIELSON AND THE RUSTED HEARTS
SKERRYVORE
THE CRANE WIVES

with openers:
SHONN HINTON & SHOTGUN
RADIO RADIO
EAGLE TRACE
ZACH PIETRINI BAND
JIGJAM
TRAPPER SCHOEPP

2017
Performances:
THE NOVELISTS
REBIRTH BRASS BAND
DANCING QUEEN
THE MOTELS
MOTHERFOLK
SOUR BRIDGES
CELTICA PIPES ROCK
TRAPPER SCHOEPP BAND

with openers:
MIKE BENIGN COMPULSION
O.W.'S EXALTERS GOSPEL CHOIR
HAYWARD WILLIAMS BAND
WELL KNOWN STRANGERS
DEVIL MET CONTENTION
AOIFE SCOTT
MIKE MANGIONE BAND

2018
Performances:
DIFFERENTIALS
BLUES GENES
CHICAGO REWIRED
TRAPPER SCHOEPP (BAY BEACH ALBUM & TOM PETTY TRIBUTE)
MOTHERFOLK
SKYLIGHT MUSIC THEATER
JIGGY
MIKE MANGIONE AND THE KIN

with openers:
REBECCA & THE GREY NOTES
KOCH MARSHALL TRIO
RADIO ROSIES
WELL KNOWN STRANGERS
PETER MULVEY
SHREEM
CALEY CONWAY

2019
Performances:
MILES NIELSEN AND THE RUSTED HEARTS
ROANOKE
CHICAGO REWIRED
JC BROOKS
THE FOXIES
STEELY DANE
RED HOT CHILLI PIPERS
SCOTT MULVAHILL BAND

with openers:
KELLY STEWARD
THE RYANN LYN BAND
RADIO RADIO
LEX ALLEN
BRETT NEWSKI AND THE NO TOMORROW
BONIFAS ELECTRIC BAND
SHANE HENNESEY
PAPER HOLLAND

THE FUTURE OF TOSA TONIGHT | 2020 & BEYOND
We are now living in unprecedented times. Spring, and even summer events, are being postponed and canceled all over the world. When we began to plan Tosa Tonight's 20th-anniversary celebration last year, we knew we were going to create an extra special season for the community. We just didn't anticipate how unique it would actually be. So please stay tuned and follow us on social media as we announce events that are sure to make this summer a season to remember for decades to come.

Want more memories?
Whether you're new to our concert series or you've been with us for the past two decades, we'd love to see Tosa Tonight from your little patch of grass. What was your favorite concert? Favorite delicious dish? Did you get stuck in any of the past thunderstorms?
Share your good times on Facebook and Instagram so your fellow neighbors, friends, musicians, and concert-lovers can relive the past twenty years!
Tag us @tosatonight and #TT202020
And a huge thank you to each and every one of you for making Tosa Tonight such an amazing part of summer evenings in Wauwautosa!
Please watch for official communications on our website and follow our social media channels to stay up to date on the status of this year's season.
These free concerts are made possible by the generous support of our Sponsors.
Follow us and tag your own Facebook, Instagram, and Twitter posts #tosatonight